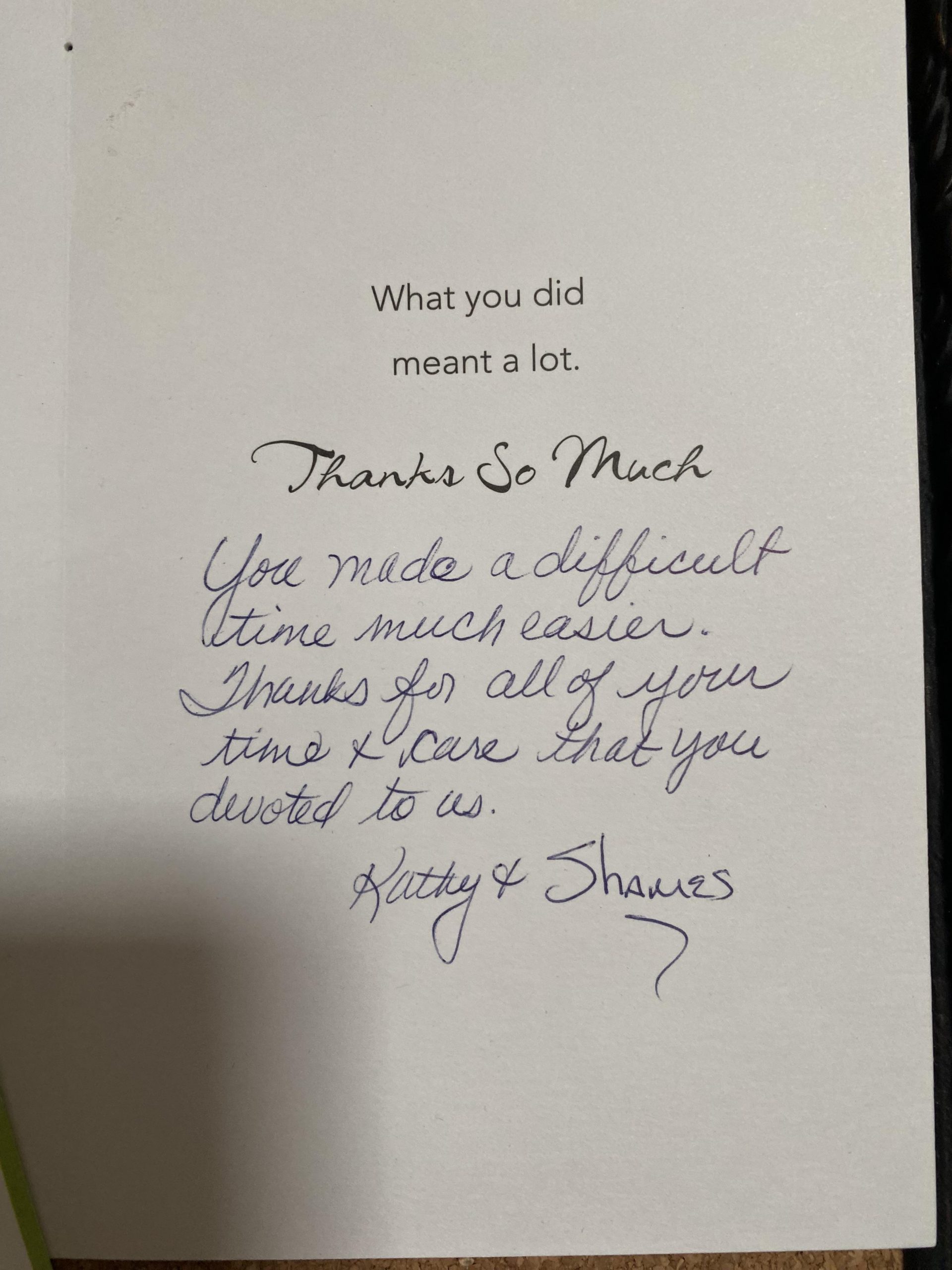 Kathy & Shames
Lynn made a difficult time much easier. Thanks for all of your time and care that you devoted to us.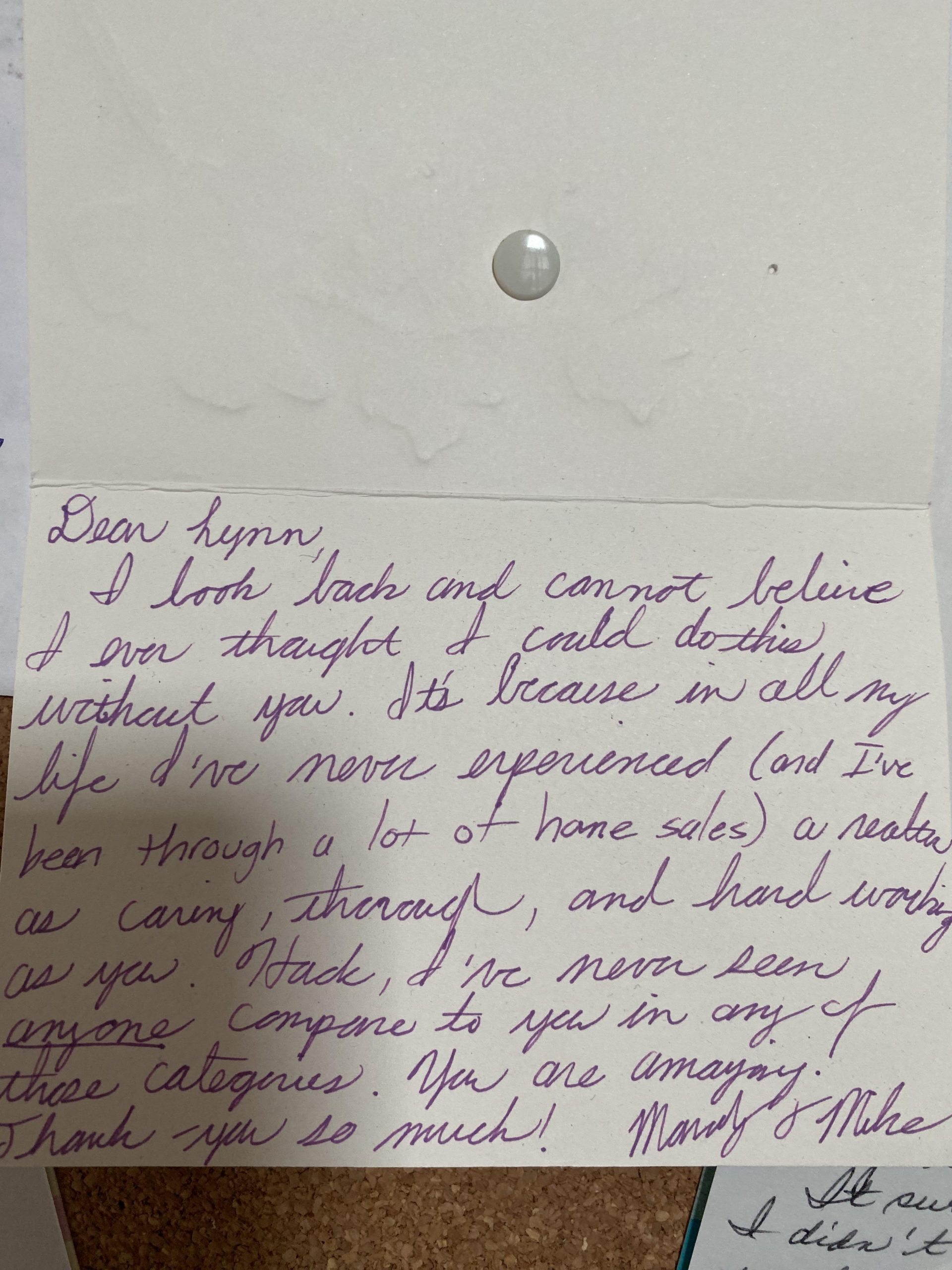 Mandy & Mike
I look back and cannot believe I ever thought I could do this without you. It's because in all my life I've never experienced (and I've been through a lot of home sales) a realtor as caring, thorough, and hard-working as you. You are amazing. Thank you so much!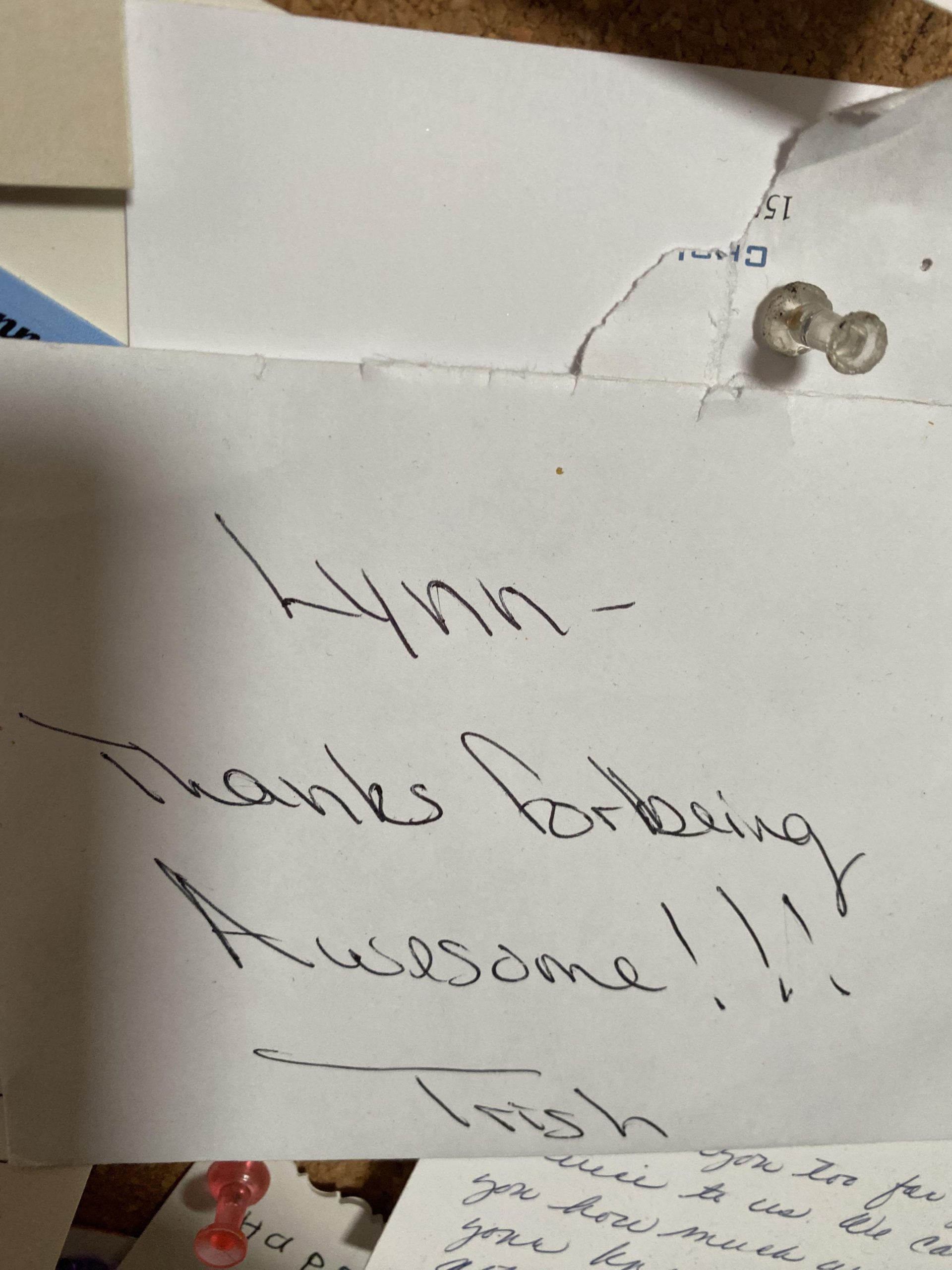 Trish
Lynn - thanks for being awesome!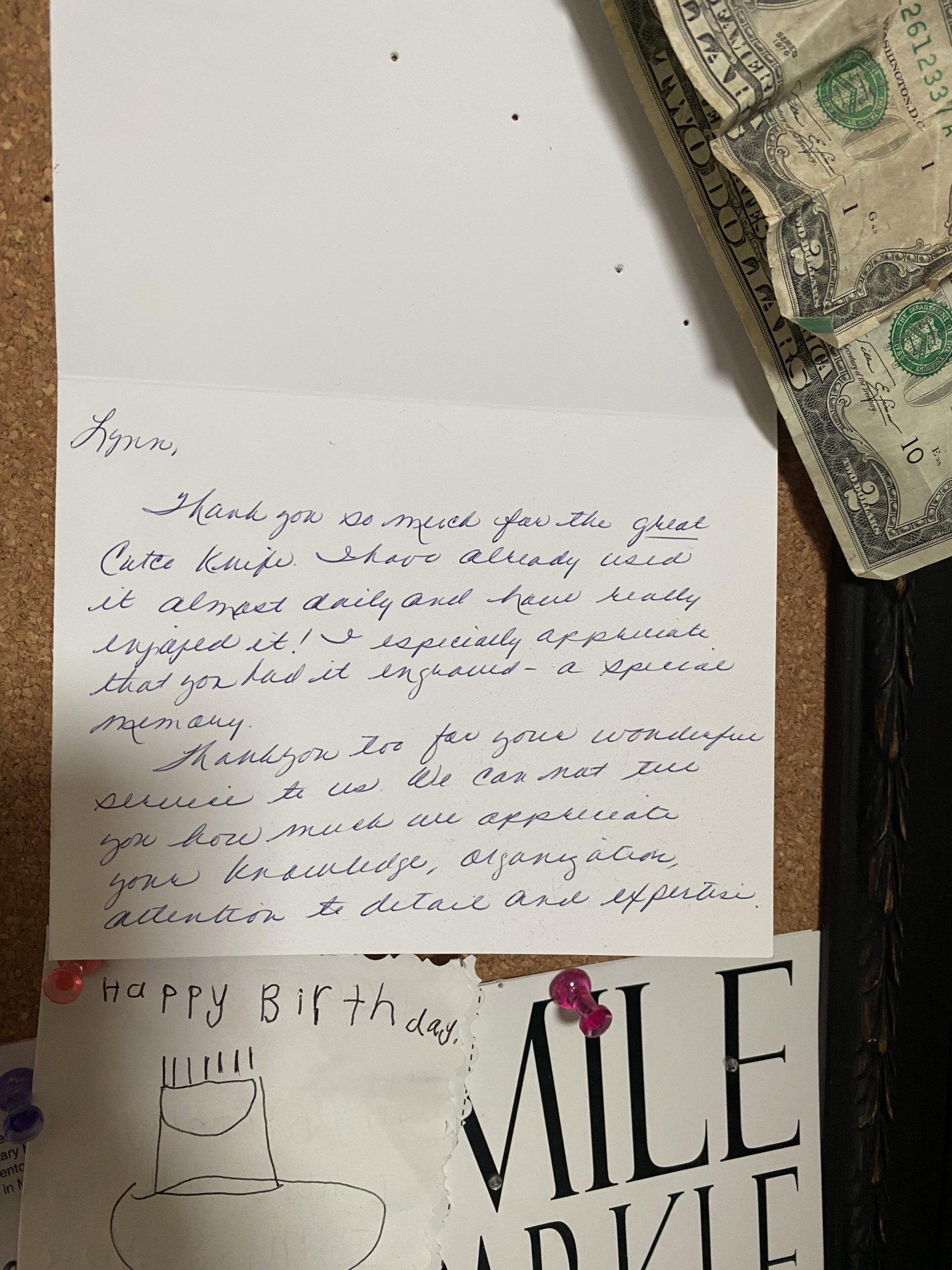 Dick & Jana
Thank you for your wonderful service to us. We can not tell you how much we appreciate your knowledge, organization, attention to detail, and expertise. You have been a great blessing to us! Thank you so much!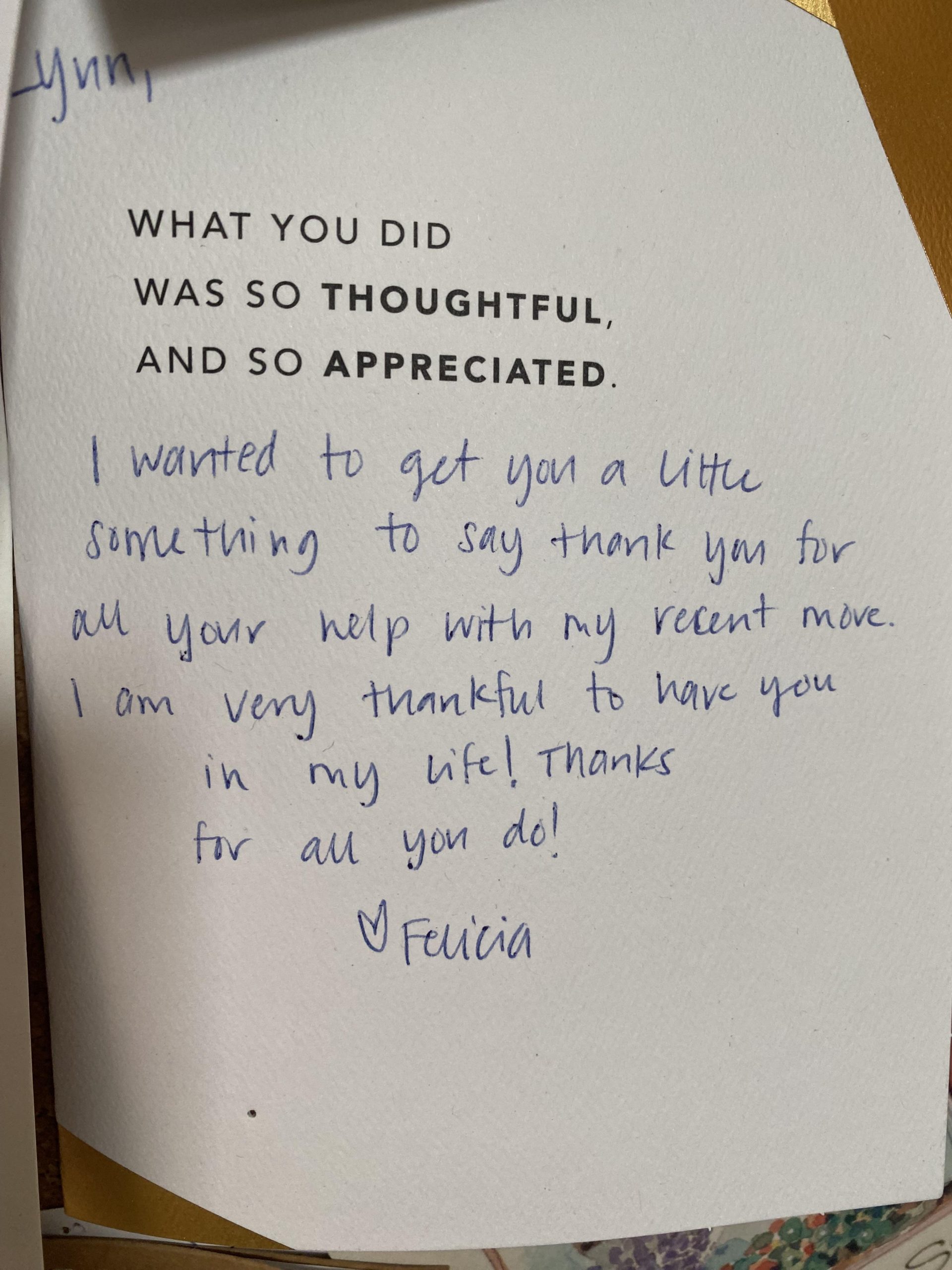 Felicia
I wanted to get you a little something to say thank you for all your help with my recent move. I am very thankful to have you in my life! Thanks for all you do!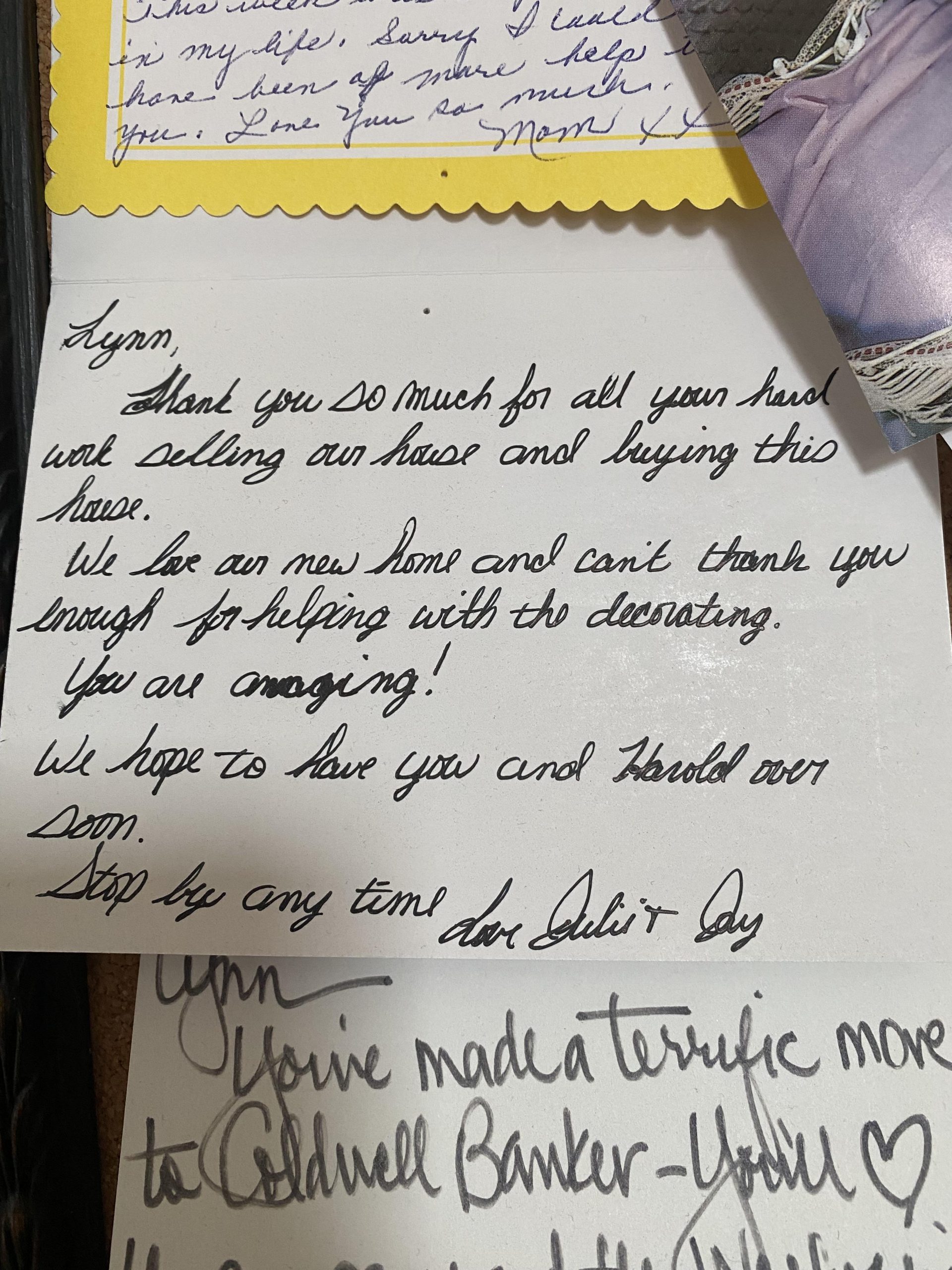 Julie & Jay
Thank you so much for all your hard work selling our house and buying this house. We love our new home and can't thank you enough for helping with the decorating. You are amazing!
Karen
Thank you so much for being a great real estate broker and a professional through and through. Our transaction was smooth and easy. I appreciate all you did and have learned a thing or 2 from you. You are truly a great broker to work with.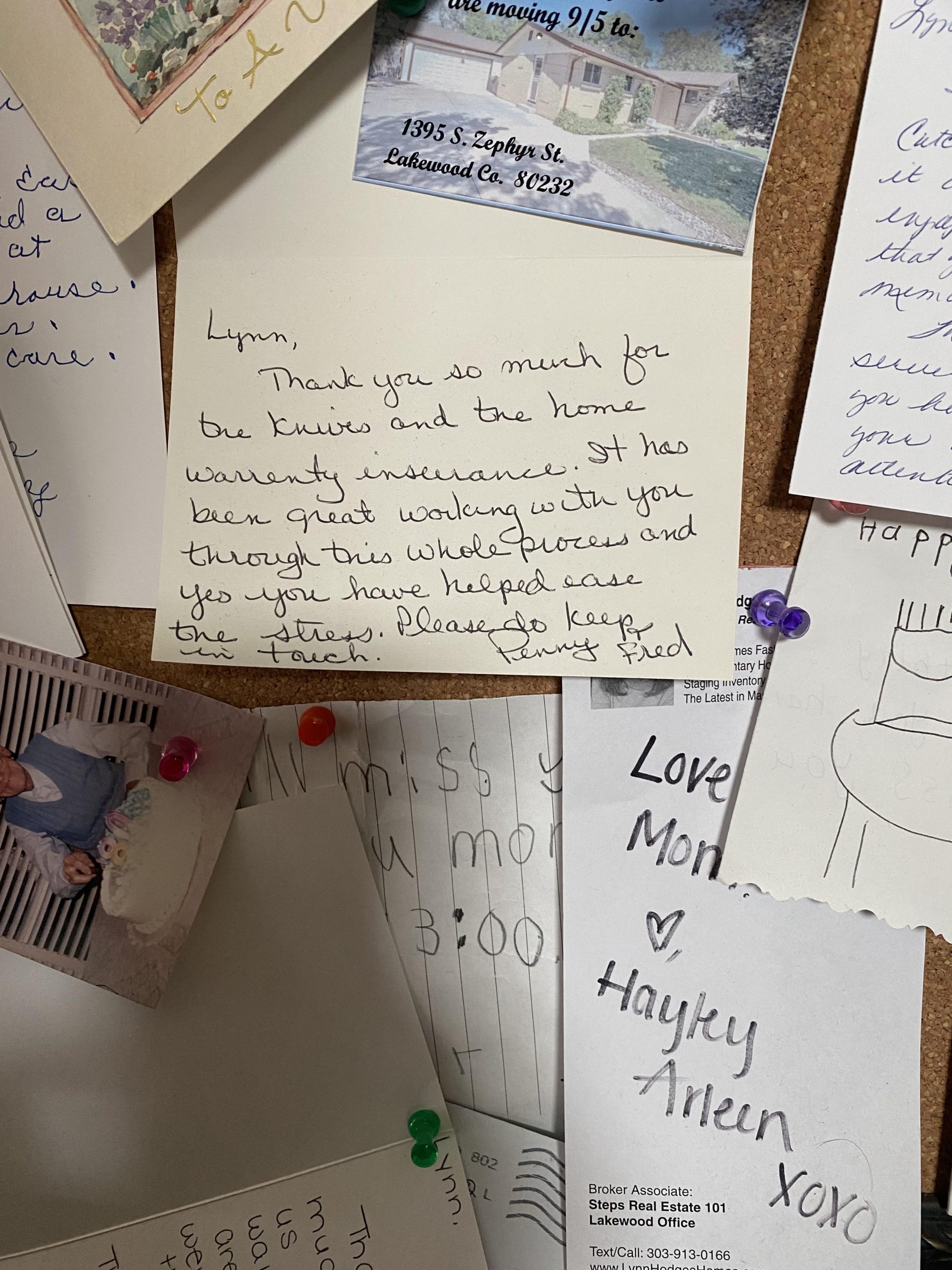 Penny & Fred
Lynn - Thank you so much for the knives and the home warranty insurance. It has been great working with you through this whole process and yes you have helped ease the stress. Please do keep in touch.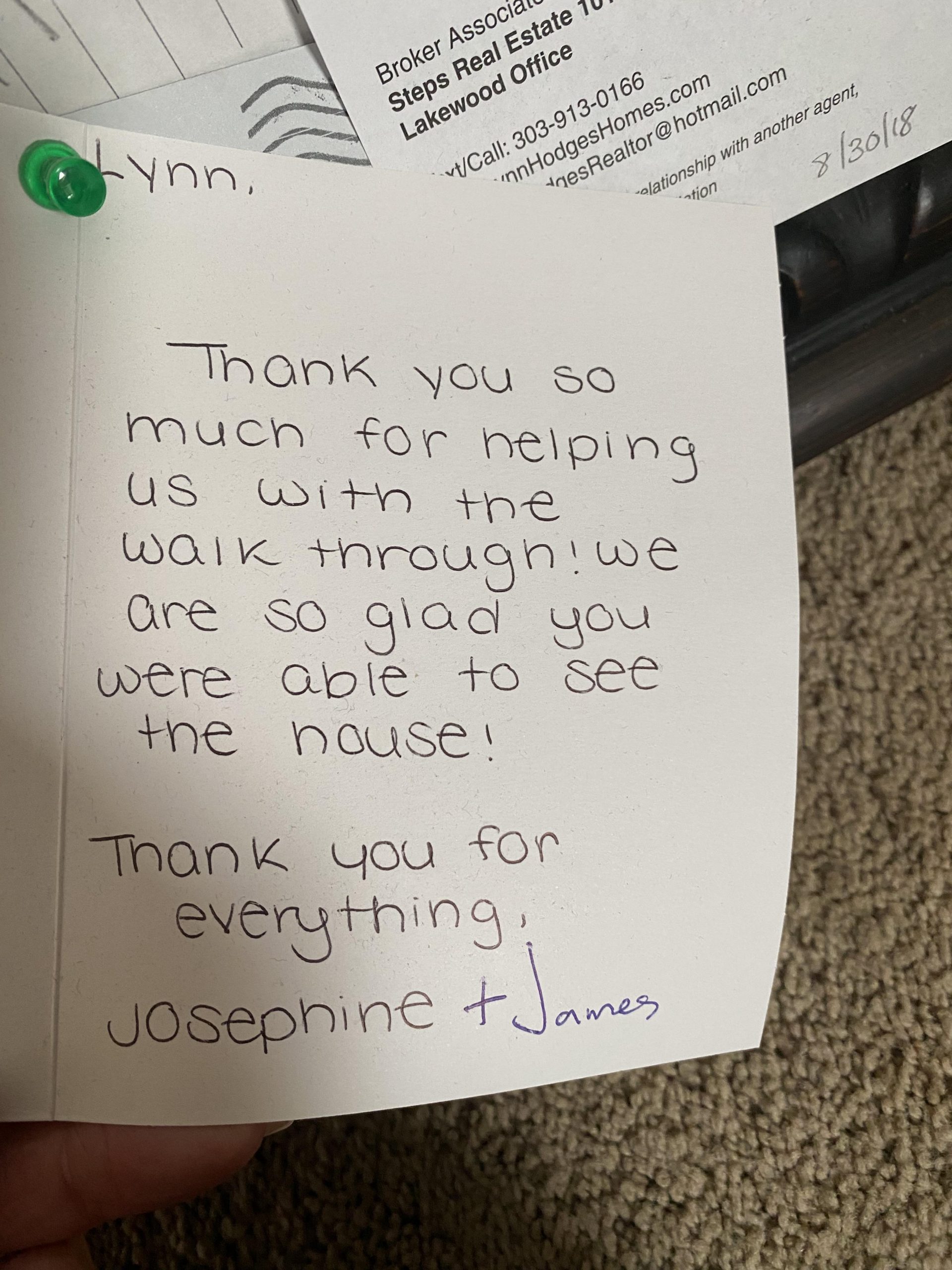 Josephine & James
Thank you so much for helping us with the walkthrough! We are so glad you were able to see the house! Thank you for everything.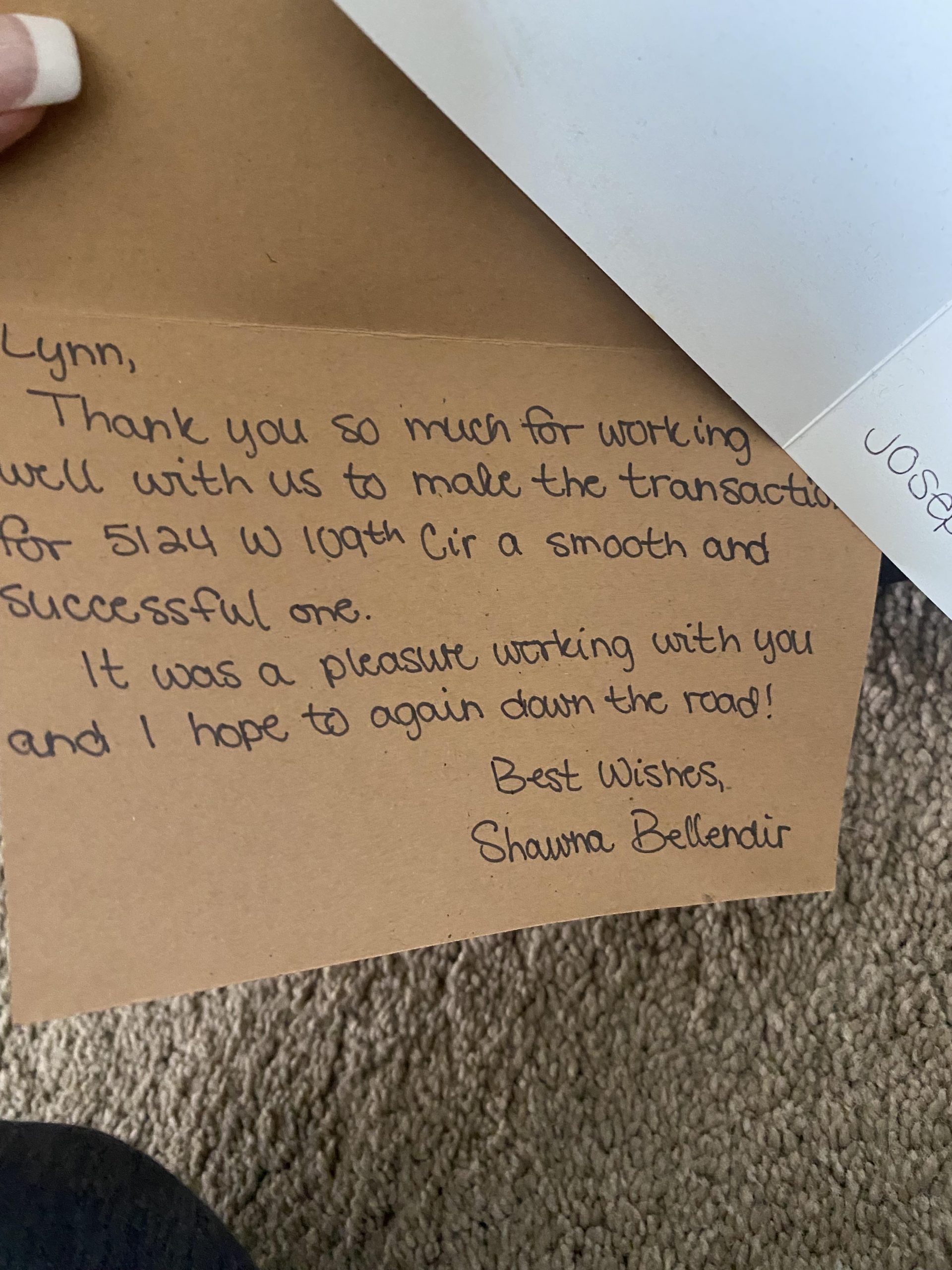 Shawna B.
Thank you so much for working well with us to make the transaction for 5124 W. 109th Cir. a smooth and successful one. It was a pleasure working with you and I hope to again down the road!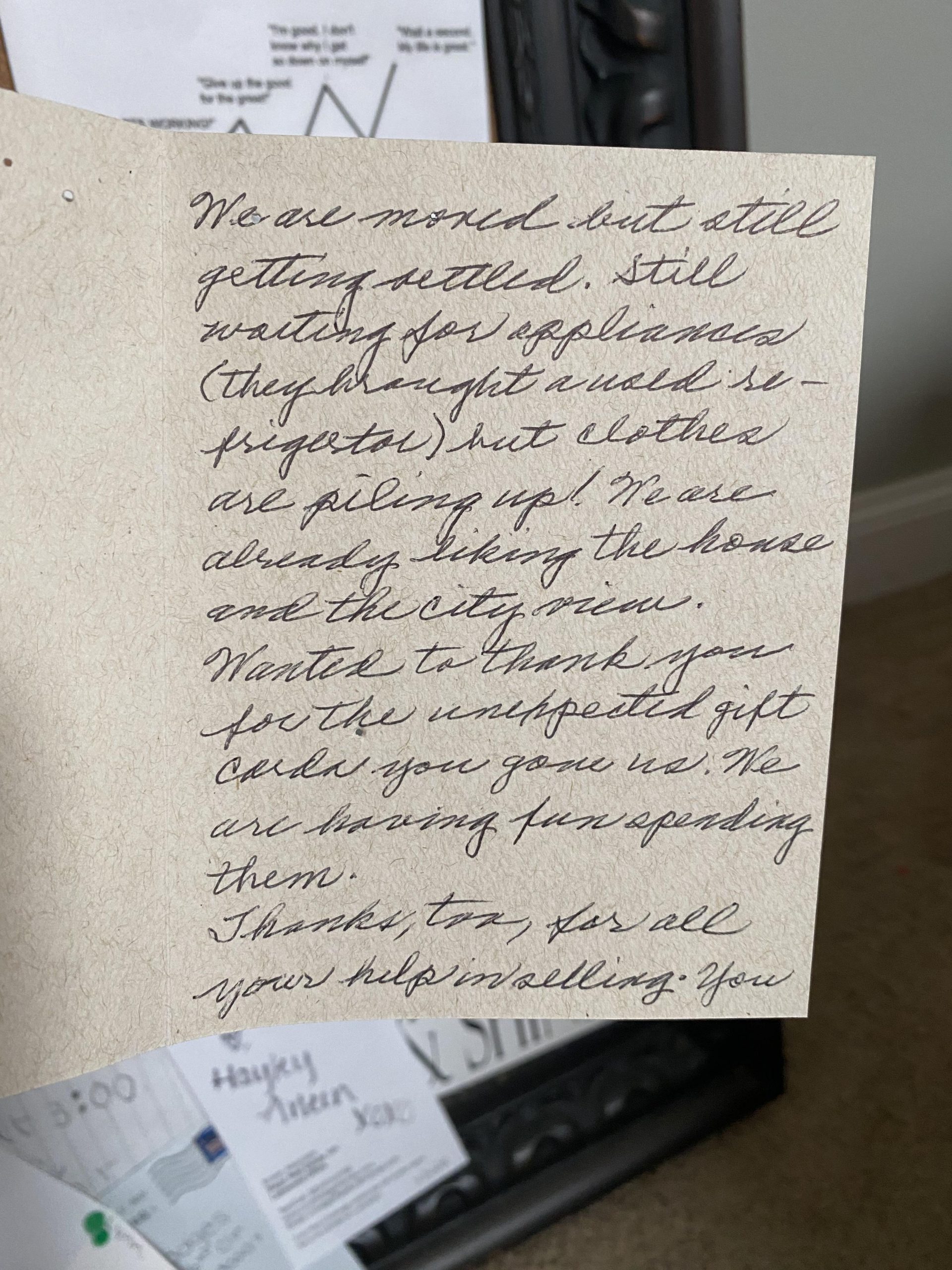 Bill & Lou Ann
Wanted to thank you for the unexpected gift cards you gave us. We are having fun spending them. Thanks too for all your help in selling. You really are a special realtor!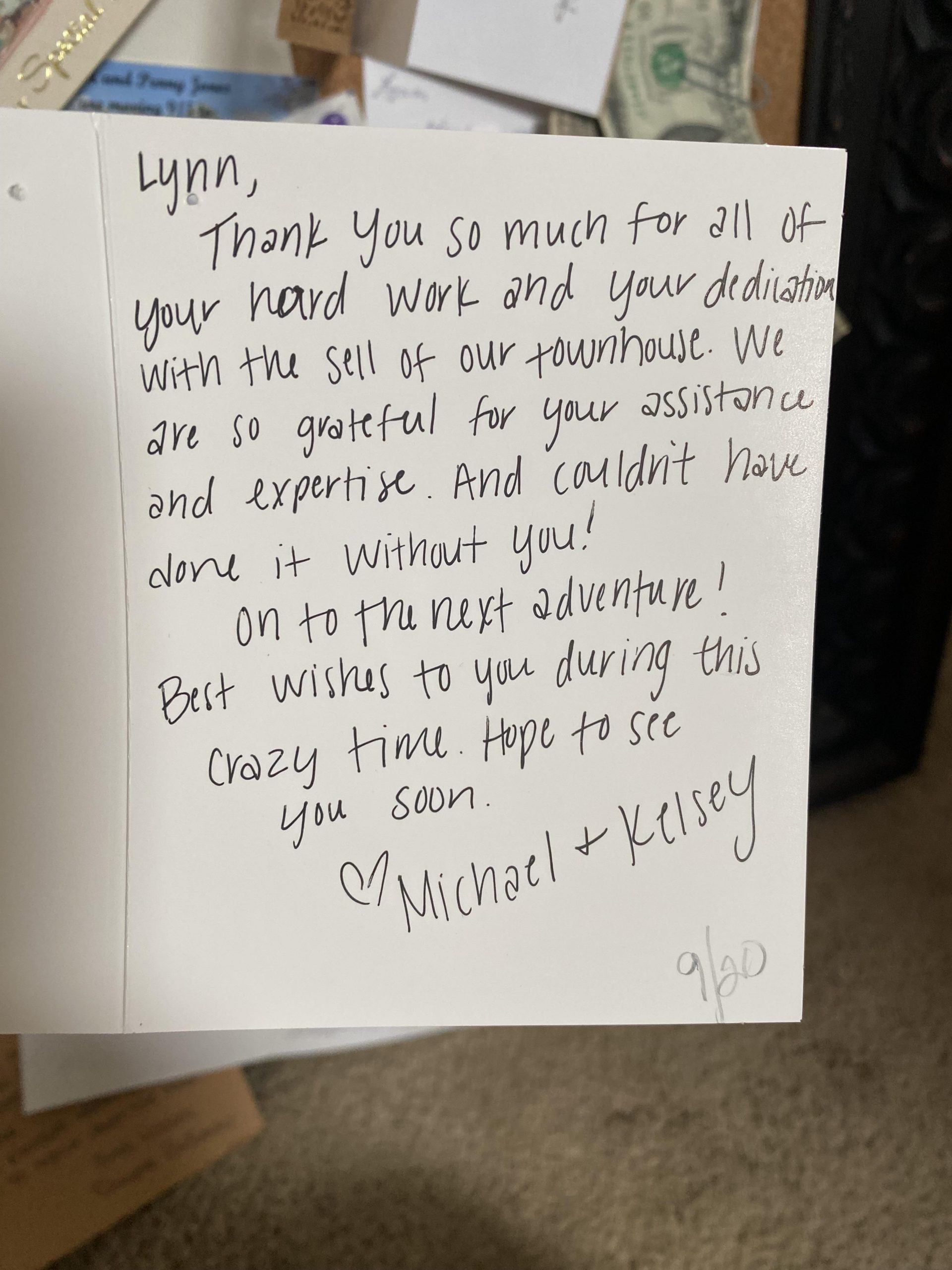 Michael & Kelsey
Thank you so much for all of your hard work and your dedication with the sale of our townhouse. We are so grateful for your assistance and expertise. And couldn't have done it without you!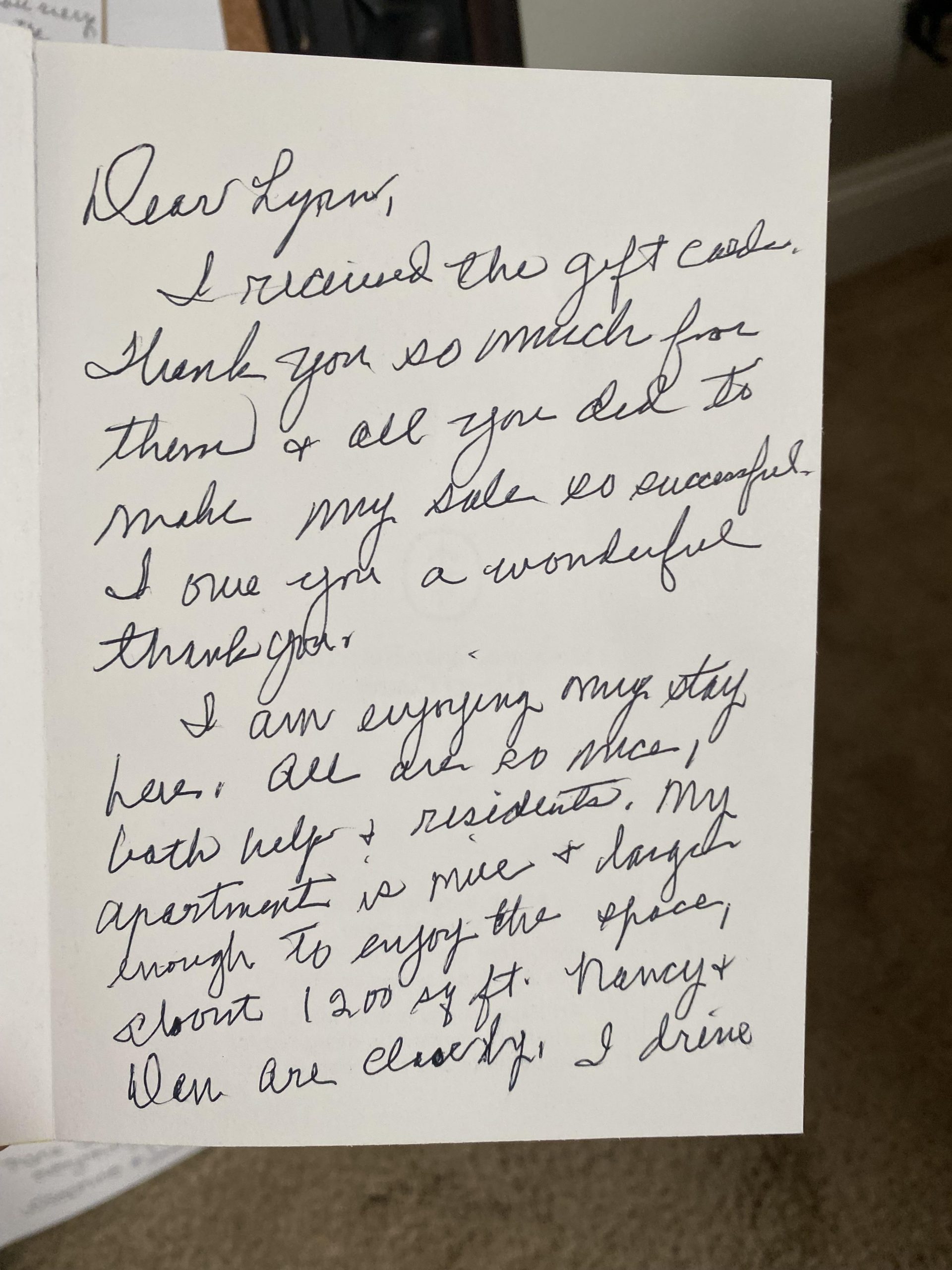 Marge
Thank you so much for all you did to make my sale so successful. I owe you a wonderful thank you. I am enjoying my stay! Again, thank you so much.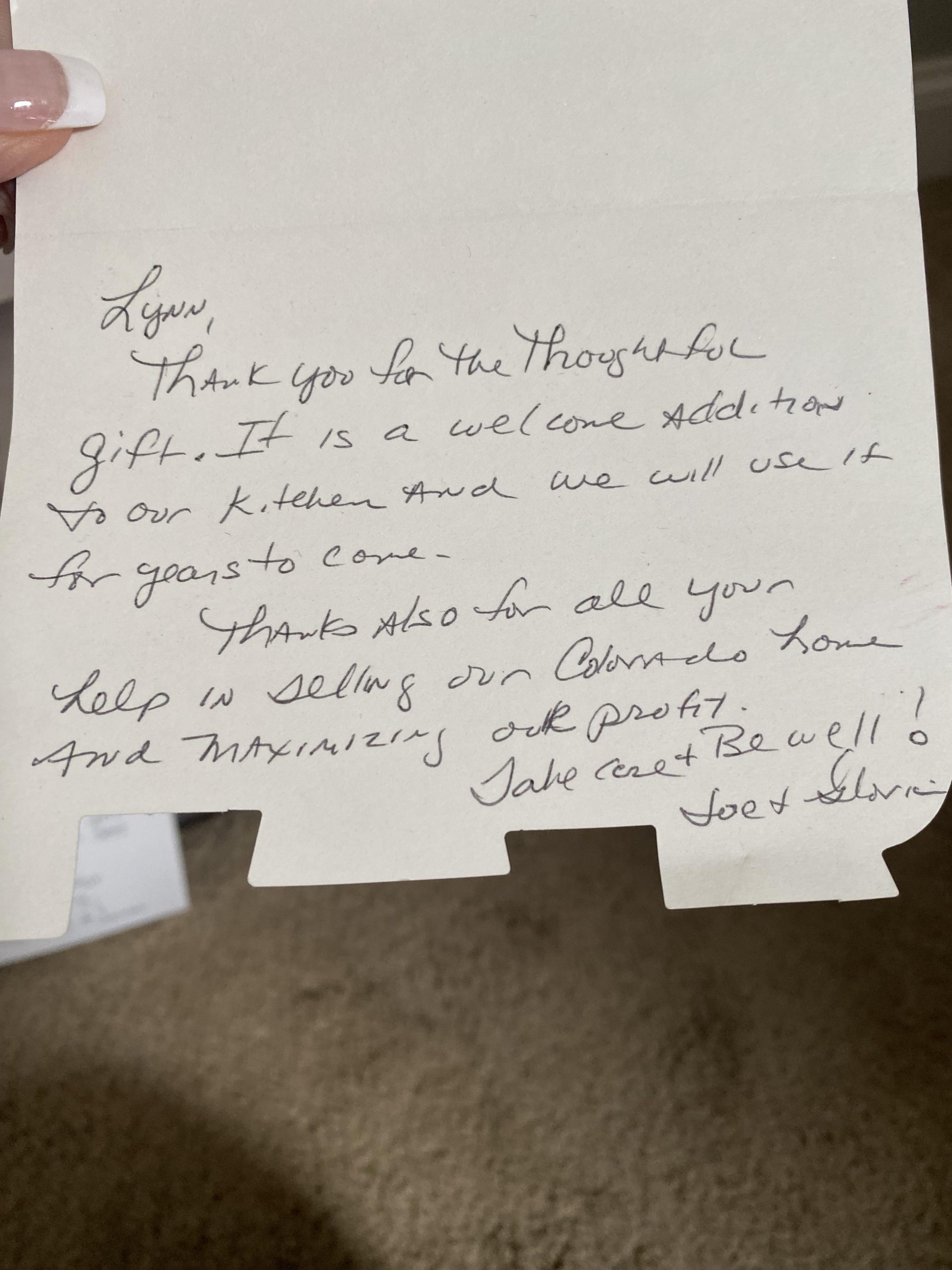 Joe & Gloria
Thank you for the thoughtful gift. It is a welcome addition to our kitchen and we will use it for years to come. Thanks also for all your help in selling our Colorado home and maximizing our profit. Take care and be well!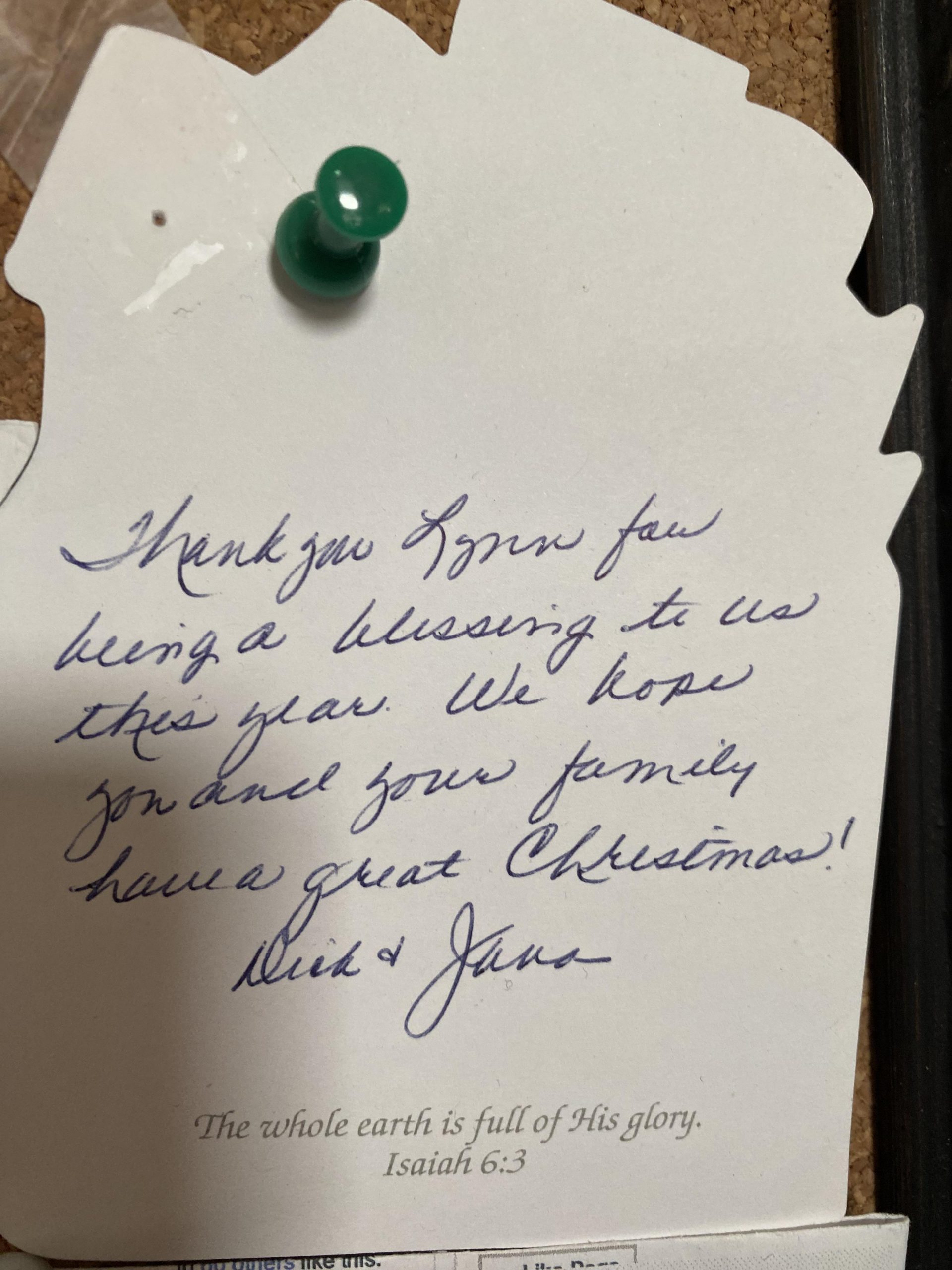 Dick & Jana - Holiday
Thank you Lynn for being a blessing to us this year. We hope you and your family have a great Christmas!
Kim Roush
Lynn was amazing! She made the whole process of selling our home very easy. With all of the worry associated with selling a house, I knew we were in good hands and that she was looking out for our interest. She was always available to answer our numerous questions and put our mind at ease. Her knowledge of the industry and attention to customer service are exemplary!

Lynn worked with us for years both in the remodeling of our house and helping us decide when was the right time to sell. Her attention to detail, staging and marketing were beyond compare. She got a selling price that well exceeded our expectations.

We also chose Lynn as our buyers agent when we were ready to purchase our new home. Again, she was proactive in protecting our interests and always available. We would not hesitate to recommend her.
Jon Peters
Lynn was referred to us by our realtor in Texas. She did a great job showing us a bunch of houses and even made sure not to point things out when something looked off.
A couple examples were how many cracks there were in the foundation of one home, and how after driving around the neighborhood a bit how bad it might be for school aged kids.

She never seemed to try and rush us for a sale, she took our families situation into account and made sure we found something we'd be truly happy with.
Matt Hamilton
Lynn Hodges is an exceptional realtor. Her strengths include detailed marketing plans and a network of contacts to assist with the listing process. She got us an above asking price bid in mere hours from listing. We would strongly recommend her.
Josh Cummings
Lynn does a fantastic job! We have worked with her selling two homes and purchasing two homes over the last several years. Each time Lynn is thorough and professional. I will definitely use her the next time we sell or buy a house.
Chris King
Our family has done a handful of transactions with Lynn over the years. Lynn is amazing! She is not your typical agent. She cares about the relationship being built rather than just the bottom line. When it comes down to getting the deal done, she is awesome at everything from market insight, market research, staging, negotiating, transaction stuff, remodel... I could go on and on. Your search for an agent stops here with Lynn.
Samantha Hopkins
Lynn has helped my family find two perfect homes! She really listens to what you are looking for to make sure you find exactly what you want. Lynn is very organized, responsive, and honest. She has so much knowledge and really cares about her clients.
Trisha LaVeck
Lynn is everything you could hope for in a real estate agent and more. She is professional and knows the industry. She will think of the things you forgot during the process and make sure you are well taken care of. She makes the home buying/selling process enjoyable and is an awesome person to work with. I've referred her to friends, who say the same.
Anna Jimenez
Lynn is the best realtor out there. She has sold two homes for us and found us a home in Denver. She is on top of all the deadlines. Her staging is above and beyond!
Sharon Kerr
Lynn helped me buy two properties in Westminster and Arvada. She is very professional and attentive to details. I highly recommend her if you looking to buy a property in the Denver area.
Sunnie C.
Lynn has been an amazing realtor of ours for years and many homes. She has always gone above and beyond to stage(I'm always amazed by how good our home can look after staging) and make home buying easier. I recommend her to everyone that is looking for a home!
Dan Shires
Lynn was amazing to work with. She made sure I knew what to look for in the neighborhoods, the house and the services I would need to use. She was always responsive and answered all my (mostly dumb) questions. I would HIGHLY recommend her.
BB
We have completed five real estate transactions with Lynn and on all of them she has done an awesome job! Some were sales and some were purchases. Some were fast and some took a long time. All had ups and all had downs. The market can be tough, but no matter what, Lynn has always been there to assure things went as smoothly as possible. She has always been patient with us, led us in the right direction, and assured everything in the transaction was being handled properly. It's pretty simple- if you are looking for the best agent, your search ends with Lynn Hodges.
Pam Whitten
Lynn worked hard to make sure we were finding the desired home. She is easily accessible to answer any and all questions. Lynn does a thorough job working on both buyer and seller side from beginning to closing. She is thoughtful of our needs both in finding a good fit and in negotiating the right price. Lynn makes the process of buying and selling an adventure instead of stressful.
I would highly recommend her on either side of buying and selling real estate!
E Jersing
Lynn was amazing! She helped us with every single step of the house selling process, answered all of questions and provided the best service I have ever received from a realtor. She is an absolute expert at the staging process which I believe that made all the difference in getting a great offer. I can't recommend her enough!
Sharon Kerr
Lynn is the best! She is always responsive to questions and goes the extra mile to make sure everything is done correctly and on time. She is one of the very best realtors I have worked with.
Fred Jones
Lynn early on set up a link to a site that told us daily of homes for sale that met out criteria. We were able to focus on and eliminate many without visits. Once ready to buy we only needed to visit a couple and bought what we wanted. She took care of every step and made sure it all went smoothly. We have seen how other agents operate and she is the only one that does the work that deserves the commission.
Mrs. Jones
Lynn is very detailed oriented and gave us fantastic advise as to how to stage our home for a quick sale at over asking price. She is very hard working and put in long hours to help the selling of our home go smoothly. As a result we were under contract in less than 48 hours. I highly recommend Lynn to anyone that wants to sell their home.
Adam & Nancy
Lynn has been so wonderful and responsive with our new home search.
We get homes to view from her that fit our search every morning early am. She is so easy to work with and to communicate with. We decided to Use Lynn even over a family realtor and one next door because of her movement and she has given so many more options to review.
Bought in Lakewood 2016
Lynn was recommended to us by a close friend, and we are so happy that we chose her as our realtor. Lynn was very knowledgeable about the market, gave us realistic and insightful advice as we weighed our options, and throughout the offer process. She was always available when we found a house we wanted to look at, and once we went under contract, she had a schedule prepared which outlined all of the items that needed to be taken care of (inspection, appraisal, etc.) along with the dates so that we did not miss any important deadlines. She also maintained a binder for us with all of the necessary documents as the process moved forward, which she handed us at closing. Buying a house is stressful, but Lynn made it as painless as possible for us. She is also just a really lovely human.
Nancy Tuma
My husband and I needed to make a decision to sell or purchase my father-in-law's home after he died. She was most helpful in providing comparisons and what we would need to do to sell it most quickly. She was honest, helpful, and friendly. She responded quickly when emailed or called. We have ended up purchasing the home and want to fix it and eventually sell it. We will only call Lynn to sell it for us, as she provided wonderful service, definitely above and beyond anything that I expected.
Bought & Sold in Arvada 2017
Lynn Hodges is A-plus. She is professional, pleasantly personable, and really knows her stuff. My wife and I have experienced mediocre real estate agents in the past and a great one like Lynn makes a big difference. She takes the time to understand our desires and concerns and has great insight whenever we have questions or want to bounce ideas off of her. We were very pleased with the results of both of our real estate transactions (we purchased a home and sold a home) and Lynn helped make the process easier and less stressful.
D Scrivner
I have bought and sold 5 homes in my lifetime. Prior to Lynn being our realtor my impression of realtors in general was negative. I have felt in every transaction prior to this one a lack of work ethic in the industry. Because of this, I thought it was ridiculous to pay approximately 6% of the sale price when the agent just took a few pictures and listed it on the MLS. An open house to me meant a way for the realtor to collect more clients for them, not to sell my home.
This entirely changed with Lynn Hodges. Her work ethic is second to none. Her thoughtfulness, ingenuity, integrity and compassion made this the most pleasant real estate transaction I have ever encountered.
John Cruz
I hired Lynn for selling as well as buying my home. I recommend Lynn for her superior knowledge and experience with any real estate transaction. Lynn you truly are a life saver and I will continue to recommend your services to everyone and anyone who needs help selling or buying a home! Thank you so much!!!
Don Massa
Lynn provided top-notch advice and assistance in helping us prepare our house to put on the market. Following her advice and allowing her to stage our house (it's part of her service) enabled us to get multiple offers higher than our asking price! She stayed on top of every detail of the process from beginning to end and was a pleasure to work with. We could not have asked for better service, better advice or a more knowledgeable or professional agent.
A & K
Lynn was amazing! If we ever need to go through this process again we would never take chances with anyone else. Her knowledge and expertise are second to none.
Jet
Lynn was extremely knowledgeable, professional, organized and thorough. She got us 2 offers on the house over the listing price the first weekend of showings. She guided us through a difficult process of inspection objection corrections that required $15,000 of work to fix and we still closed on time. Through it all, she had a very positive and helpful attitude and was a joy to work with.
Joshua Cummings
Lynn is great to work with. She has helped us with both a purchase and sale. She is very professional and thorough and understands the marketplace really well. Great experiences.
Bought in Golden 2015
We could not have asked for a better experience! Lynn is very knowledgeable, thoughtful and helpful. She was on top of every situation and always prompt in getting any information we needed. We would highly recommend Lynn!
Sold home in Arvada 2016
Lynn did an amazing job for me! She gave me suggestions on how to get my house ready for the market down to the color for walls and trim. Her staging was amazing and the professional pictures she had taken showed off all the positives in the house. Her marketing got 80+ buyers looking at my house in 4 days. I had over 20 offers in those 4 days. In the end Lynn's staging, marketing and knowledge of the area enabled me to accept and close on an offer over $30,000 above initial asking!

Lynn was timely with communication and was professional in all of our interactions. I would highly recommend to Lynn to anyone in the market for real estate.
Melissa Miller
This was my first home buying experience and it could not have gone any better. Lynn is fantastic and takes care of everything! It was so easy. She will be the one I go to for selling and/or purchasing a home in the future.
Bought & Sold in Westminster 2015
Lynn is great! I highly recommend her!

She helped me purchase my Townhouse. Then about two years after, she helped me sale it. With Lynn's staging and knowledge, we were able to make quite a bit from the sale.

Lynn then helped me get my dream home, in this VERY competitive market! She knew what to do, to be sure the Sellers acceped MY offer.

Again I would HIGHLY recommend Lynn! She is fantastic at what she does, and really knows her stuff.
Lisa Dow
Lynn's real estate and staging expertise was outstanding. She provided guidance throughout the process from preparing the house to put on the market, staging the house, to actually putting it on the market. She was able to help us determine what improvements to make prior to putting the home on the market to help us get top dollar in a short time frame. Her expertise was invaluable given the fact that we closed less then a month after we put it on the market. I would highly recommend Lynn to all of our friends and family and will not hesitate to go to her the next time we need a realtor.
Tony Stone
Lynn was efficient, professional from start to finish and extremely easy to work with. When it came to follow-up Lynn was thorough, detailed and fast to response. She helped us to get the deal we wanted and in the time scales that worked well for both parties.
I have no hesitation what so ever to recommend Lynn.
Jenny Hyland
Lynn Hodges was amazing to work with. She walked us through every step of the process and I don't know that we could have done it without her. At the time of selling we had a 4 month old and and 2 year old and she helped with organization, staging and an unbelievable amount of showings. She is patient, kind and professional. I would highly recommend Lynn.
Stacie Nowak
Lynn worked extra hard to find our home in a market with little inventory, and as we saw new areas our dreams and goals changed so it took forever but she was patient, kept our new goals ahead of us and we eventually found the perfect home for our new life!!!!! Thanks Lynn
Bought in Lakewood 2012
Five stars across the board! It's hard to believe Lynn has an office because she was ALWAYS there for ALL my needs in finding the home of my dreams! The entire process was as if I was buying a house with a good friend who has the expertise and resources of a top notch professional. Lynn immediately pointed out items that needed attention/resolution before the two inspectors I hired only confirmed! It has been well over a year now and I know I could not be more satisfied with my investment and most all working with the best agent EVER!<br/><br/>After closing, Lynn asked me to follow her to her vehicle for a closing gift so well thought of, I was crying tears of happiness on the way home! Thank you Lynn!!! Without you, I would be homeless! I recommend you to everyone I know who needs help with ANYTHING to do with real estate!!!!
Bought in Arvada 2012
Lynn Hodges helped my wife and I to purchase our first home and was top notch in every way. Being first time home buyers Lynn took the time to walk us through the process of looking for a home and provided us with very detailed listings to look through. She was able to take us to multiple open houses in a row helping us to maximize our available time and quickly zeroed in on the types of homes that were of interest to us. Lynn is very personable as well as diligent and I wouldn't hesitate to recommend her as a buyer or seller agent.
Stacie N.
Lynn was there for us during a very hard personal time to help sell our home. She came in and staged it and listed it while I was out of town, and helped negotiate a great offer with very difficult buyers after initially starting with an insultingly low offer. Thanks again to Lynn and her team!